The color picker allows you to modify the color of the active tool.
How to pick a color
Here is how you pick a color from the "Drawing Tools Panel":
Step 1
Press on the tool you want to change color.

Note: You can only change individual colors for each of the following tools: Pens, Paint Bucket, and Text.
Step 2
Press on the colored box on the right to open the "Color Picker".

Step 3
In the "Color Picker" panel you can choose the color you want from either the "Classic Wheel Color", the default "Presets", or using the "Eyedropper Tool".
Color Picker Details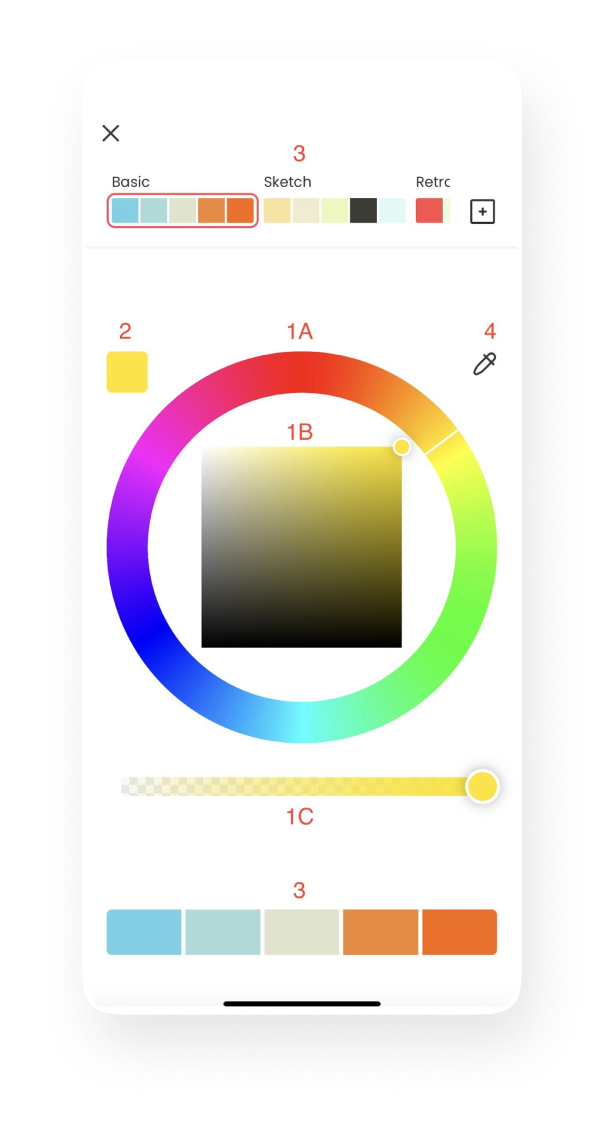 The following is what each part of the color picker does.
1A- Classic Color Wheel
Selecting a color from the wheel is simple. Press the spot on the wheel you want to select the color from. You can hold and drag along the wheel until you find your desired color.
1B- Hue
To change the hue of the color, drag the circle in the square to the desired spot.
1C- Opacity
Drag the slider to your desired transparency.
This option allows you to change the opacity of the color you want to use. Just drag the slide bar beneath the color wheel to your desired transparency.
Note: This option is only available when using the pen tool. It will not appear with the paint bucket or text tools.
2- Color Preview
This small square is split in half. The first half will reveal the color you are selecting. Beside this is the original color you selected when you opened the color picker. Tap it to restore that color.
3- Presets
These are color palettes in themes. FlipaClip has default presets available. You can also create your own color palettes.
To create a preset:
Step 1- Press on the "+" on the top of the screen. This will create an empty palette at the bottom of your screen.

Step 2- Pick a color you want to add to the palette.

Step 3- In the empty palette press the plus to add the color you picked.
Note: Only 5 colors can be added per preset.
To rename or delete a palette:
Step 1- Press and hold the preset

Step 2- Select the option on the pop-up screen
To replace a color in your palette
Step 1- Pick a color you want to replace on the palette

Step 2- Press and hold the color you want to replace in the palette
4- Eyedropper Tool
The eyedropper tool helps you pick a direct color from the stage.
To use this:
Step 1- Press the eyedropper icon.

Step 2- Move the circle picker to the area where you want to match the color. Make sure the "+" in the center is on the color.

Step 3- Your color will be matched in the color

wheel settings.